Our History
Second Chances was founded in 2009 and  is located on 23 acres in the Eastern area of Louisville and serves the surrounding counties. We are raising funds to renovate our new center so we can meet our community's needs. We have grown from receiving 50-100 calls each year from people requesting our help, to over 1000! We have grown from reaching 500 students each year with education programs to over 3000!
With attention to detail, the top-notch care we offer our patients, and a passionate message delivered in our education programs, we have earned an excellent reputation. In fact, National Geographic asked Second Chances to be part of their reality show called Bandit Patrol. Season 2 Bandit Patrol reruns air currently. Season 3 is  scheduled to air in February 2017. Bandit Patrol is their number 2 rated show. While the show basis is about wildlife rehabilitation, Center Director, Brigette, takes every opportunity to educate the public during her filming.
Our animals are cared for until they are ready to be released back into their natural environment. They may start off in an incubator being fed around the clock with lots of love and attention and graduate to a large pre release enclosure with minimal contact. All pre release enclosures are designed to simulate their individual habitat. These animals are taught survival skills they will need to be successful in the wild. The animals are released in protected areas with a food and water source. Prior to release, all animals are dewormed and fully vaccinated which promotes healthier populations in the wild. This also decreases the risk of pets and humans contracting wildlife diseases.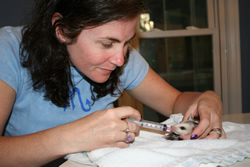 Brigette Brouillard is the founder of Second Chances and is a licensed Wildlife Rehabilitator with the Kentucky Department of Fish and Wildlife and Federal Fish and Wildlife. Recently. Half of the volunteer team obtained their state permit as well! Second Chances is also licensed by the USDA.
Brigette has over 20 years teaching experience in the private school system. She serves as a volunteer educator at The Louisville Zoo. She also has her State and National  Environmental Educator Certification and leans heavily on ecology, STEM, Next Generation Science Standards, and state standards for interdisciplinary areas as well as Environmental Education. Second Chances education programs are fun, unique, and fact-based.
Brigette feels that it is important to understand our wildlife so we may help protect it and co exist with it. Educating is the key to do just that. In 2010, she was awarded the Kentucky Conservation Teacher of the Year. In 2014, Second Chances' education programs reached over 2000 students.
Please call 502-228-NEED (6333) or e-mail brigette@secondchanceswildlife.org with a wildlife emergency or to schedule an education program.