Backpacks
All products are tax free and shipping is included in the suggested donation price. Proceeds go directly to animal care. For cool Second Chances gear, Click Here.  SecondChances receives a small portion of each purchase.
Other Store Categories
Bat Boxes | Calendars | Clothing | Hammocks | Jewelry | Keychains | Stuffed Animals | Wood Items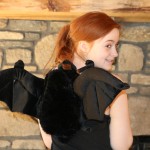 Bat Backpack
Price: $35.00
Who would not want to have this amazing bat hanging out on their back? This backpack does zip and can hold things. It had adjustable straps to fits most children and adults. This is a good quality pack and is a conversation starter for sure. Be you! Be unique! Don't forget…shipping is included in the price.