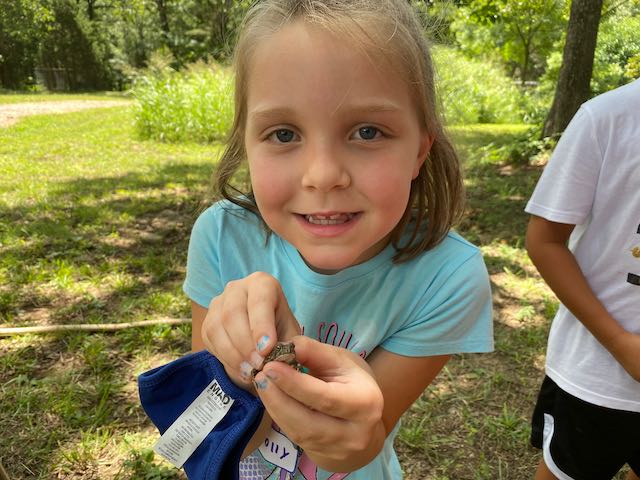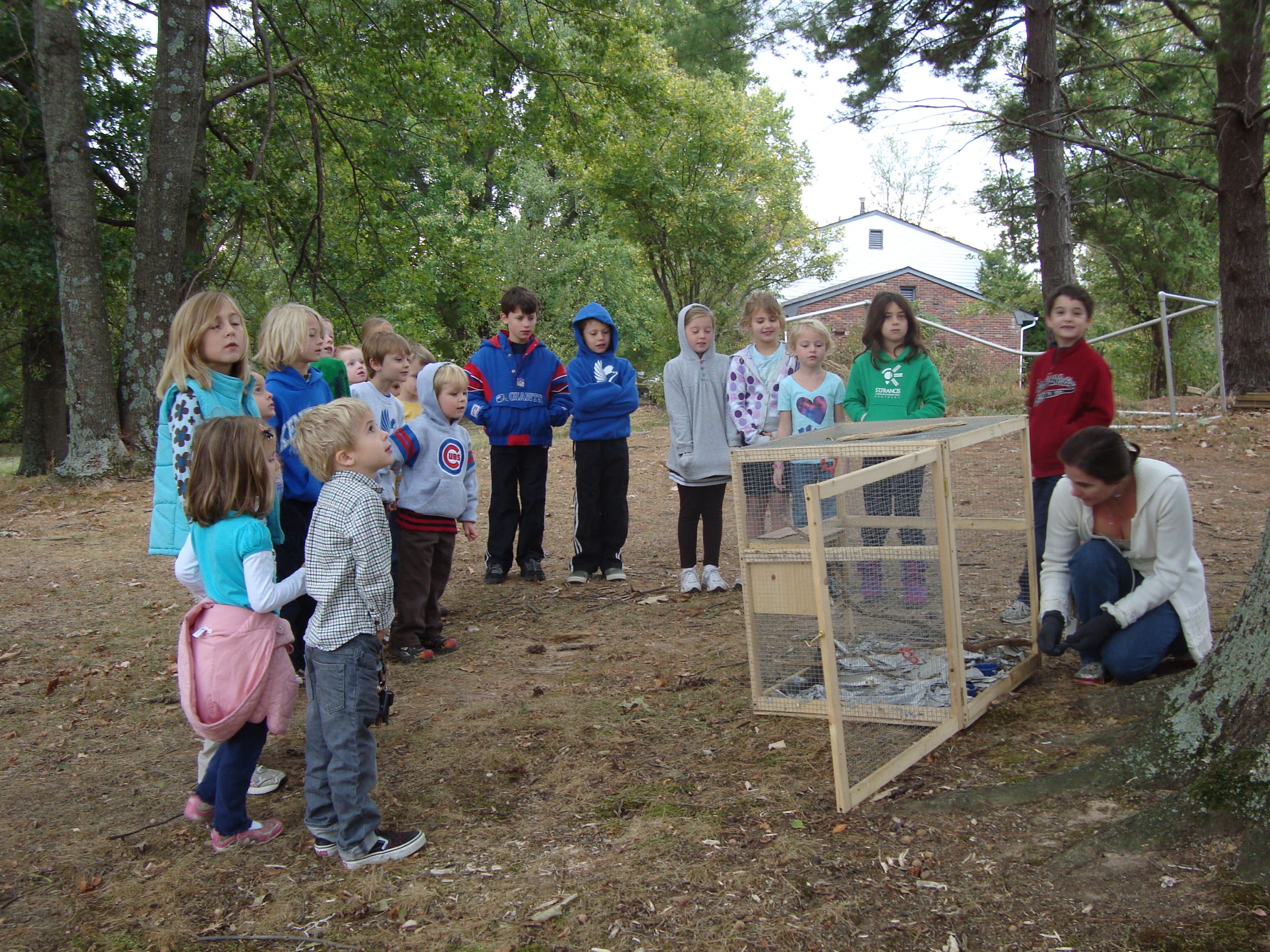 Our Hands-On Education Programs
We provide hands-on education programs for preschool through adult. There will be live animals that accompany the instructor. Second Chances' director, Brigette Brouillard, is the lead educator and program developer.  She was a full-time teacher for eighteen years. Overlapping with her classroom teaching positions, she has taught at the Louisville Zoo for over twenty years. She is a certified Master Environmental Educator and is both an instructor and facilitator in Project Wet, Project Wild, and Project Learning Tree.  She is passionate about what she teaches and is thrilled to be able to touch more people through Environmental Education. In 2010, Brigette was awarded the Kentucky Conservation Teacher of the Year.
Looking for a fun and useful Professional Development for teachers? Brigette is a trained facilitator and can certify your teachers in Project Learning Tree, Project Wild, and Project Wet! Project Learning Tree for Early Childhood can help your Early Childhood Program reach your NAEYC goals! 
Developing empathy towards animals can be a key step towards developing empathy for, and rejecting violence against, all beings, including human beings. It is important, therefore, that students learn to recognize that the animals with whom we share this planet, are, in many ways, not so different from ourselves. Compassion education.
 We can travel to your location or you can visit us! AND…now offering VIRTUAL LEARNING OPPORTUNITIES!!! We offer programs to the following groups: Boy Scouts, Girl Scouts, church groups, rotary clubs, libraries, camps, parks, and, of course, schools. Kentucky Core Academic Standards are incorporated throughout each program. Our programs also meet criteria for scout groups to earn a few badges!
Above are some various classes that may be presented. However, we are willing to work with each coordinator to alter the lesson depending on individual needs. Classes are all age -appropriate.
EE Series
The best practice for delivering Environmental Education programs and fostering environmental stewards is to spend TIME in Environmental Education programs. We offer a series of classes that touch base on several environmental topics to include air quality, water quality and watersheds, pollution (Point and Nonpoint Sources), pesticides, climate change, and of course biodiversity. All of these topics affect both humans and our wildlife. Call to plan your series today! Our EE series are five classes spread out over 5-6 weeks or throughout one week. Each class is 1.15 hours long. $800 total. Materials included. This program hits a lot of KCAS to include SS, PL, and the New Generation Science Standards. This series is best suited for elementary school and up.
NGSS: K-LS1-1, MS-LS2-1, HS-ESS3-6.
While You are Sleeping
This program is designed to teach participants about nocturnal animals. What animals DO come out at night? What do they do? Where do they live? Are they scary? What do they do during the day?
NGSS:K-LS1-1,4-LS1-1, MS-LS2-4, MS-LS4-4, 4-PS4-2
Kentucky Animals 
During this program you will learn about animals you hear about but may not know about. Some truths may actually surprise you! What are these animals' habits and where do they live? Are they good to have around? Have they always lived in Kentucky? Are there many of these animals? Can I keep one I find? Most requested class.
NGSS: 3-LS4-3, 2-LS4-1, 4-LS1-1, K-ESS3-1, MS-LS2-2, MS-LS2-1, HS-LS2-2
Awesome Opossum 
This is actually a favorite class and fascinating for both adults and children. You'd be surprised at how interesting these marsupials are. There is so much to learn about and from these prehistoric mammals. Do they really hang by their tails? How do they live? How many babies do they have?
NGSS:K-LS1-1, 4-LS1-1, MS-LS1-4, HS-LS2-6
Batty about Bats 
Is it is bird, a reptile, or mammal? This class will teach you the answer to this in exciting detail! There are many myths about bats and we are ready to tell you the truth about them. Are they actually good to have around? What would happen to our ecosystem if there were no more bats? Why do farmers like bats so much? Do they carry rabies? Do they love human hair? Are they blind? Do bats brush their teeth? If you don't like mosquitoes… this is your class! This class is kept very simple for younger grades (grades 1-4) and is more in-depth for older grades (grade 5 and up). Live bats do join us for this program: both microbats (our local bats) and megabats (tropical fruit bats)!
NGSS: K-LS1-1, 4-LS1-1, MS-LS1-4, HS-LS2-6
Connection Protection
From producers to predators to scavengers, the incredible food "chain" provides energy for all living things. Learn more about how wild animals and plants fit into food chains and how we are all connected in the web of life. Learn how our decisions might effect more than we think! Does pollution affect the food web? This class is best suited for grade 5 and up.
NGSS:5-PS3-1, MS-LS2, HS-LS2-6
Co-existing with Native Wildlife
You say you don't like opossums in your back yard…find out why you just may change your mind! Are you actually attracting these animals to you? Would you like to know how to send them on to your neighbors? Ha! Find out humane solutions to keeping your yard to yourself. (Although after this class, you may be asking how you can INVITE some critters to your yard!) You will also learn how humans make an impact on the health and numbers of some species.
NGSS: MS-ESS3-3, MS-LS2-5
What is wildlife rehabilitation?
Learn the ins and outs of what we do. We will discuss our initial steps of rehabbing to the final release of that animal. Why is rehabilitating important? Does it affect you? Are their risks involved? What legal steps does it take to be able to rehabilitate wildlife?  What do you need a special permit to save a wild animal? This class is best suited for fifth grade and up.
NGSS: 5-ESS3-1, MS-LS2-5, MS-ESS3-4, HS-ESS3-3, HS-ETS1-3
Adaptations
What is an adaptation? What animals have adaptations? How does an adaptation help certain animals survive? Do humans and "urban sprawl" affect adaptations? Learn how environments play a role in animals' adaptations and see live animals showcase their own unique adaptations! This class is best suited for third grade and up.
NGSS:3-LS4-3, 4-LS1-1, 4-LS1-2, K-LS1-1, 3-LS3-2
Wildlife and Waterways
What would life be like with no fresh water? Learn how important maintaining oceans, watersheds, and the life within them are! Find out why  a healthy aquatic ecosystem is so crucial for fish, plants, and wildlife. How do humans affect aquatic ecosystems and how we can help keep our waters healthy? This class is best suited for grades 5 and up. This is a three hour program. This program hits a lot of KCAS to include SS, PL, and the New Generation Science Standards. This program is $450.00. Materials included.
NGSS: MS-ESS2-4, MS-ESS3-3, MS-ESS3-4, MS-ESS2-6
KCAS: PL 4.4, PL 5.1, SS 2.19
National EE Standards: 1C, 1D, 1G, 2.4A, 2.4E, 4D
Climate Change: What is it really and how are we affected? How is wildlife affected? How do we know what we know about climate change? Is there anything we can do about it?  Learn current issues, facts and studies. This class is best suited for middle school and up.
NGSS: 5-ESS3-1, MS-ESS3-4, HS-LS2-7, HS-LS2-1
White Nose Syndrome:
Learn a brief overview of bats and what White Nose Syndrome is. How does it affect bats and how does it affect us? What is being done to treat the disease and how can each of us help? With use of our technology, students will also be able to hear our live bat echolocating! This class is best suited for middle school and up.
Ecology Learning Trip to Belize
We are offering a 9 day Ecology Learning Trip to Belize in February 2024. During this science education trip, we will collect data in seagrass around the belize Barrier Reef, assist with neotropical bat surveys and herpetology studies in the rainforest, and overall conservation and Environmental Education.  Very hands-on! Open to formal and informal educators, EE, pre-vet, and biology students, naturalists, rehabilitators, and nature enthusiasts 18 and older. Estimated cost is $3900 which includes airfare from Louisville area, all lodging, all meals in Belize, transportation, instruction, and t-shirt. Prices MAY increase slightly after March 1, so lock in with your $250 before then!  College credit and Professional Development hours can be awarded as we do have a set curriculum. We will meet twice before our trip and a small assignment is required. Payment is broken into several installments. We will host a preliminary meeting early 2023.
The country of Belize is home to incredible biodiversity. Its crystalline waters, swaying seagrass beds, and lush jungles offer critical habitat for bats, tropical birds, sea turtles, and a subspecies of endangered West Indian manatees. Beneath vibrant jungle canopies and along sparkling white sandbeaches, life in Belize abounds. You'll have the chance to explore and learn about these rich ecosystems firsthand on the Belize Marine Ecology program.
Registration is open! If you plan on particpating in this course, make sure you register as a students, no matter your age. www.ecologyproject.org/secondchances2024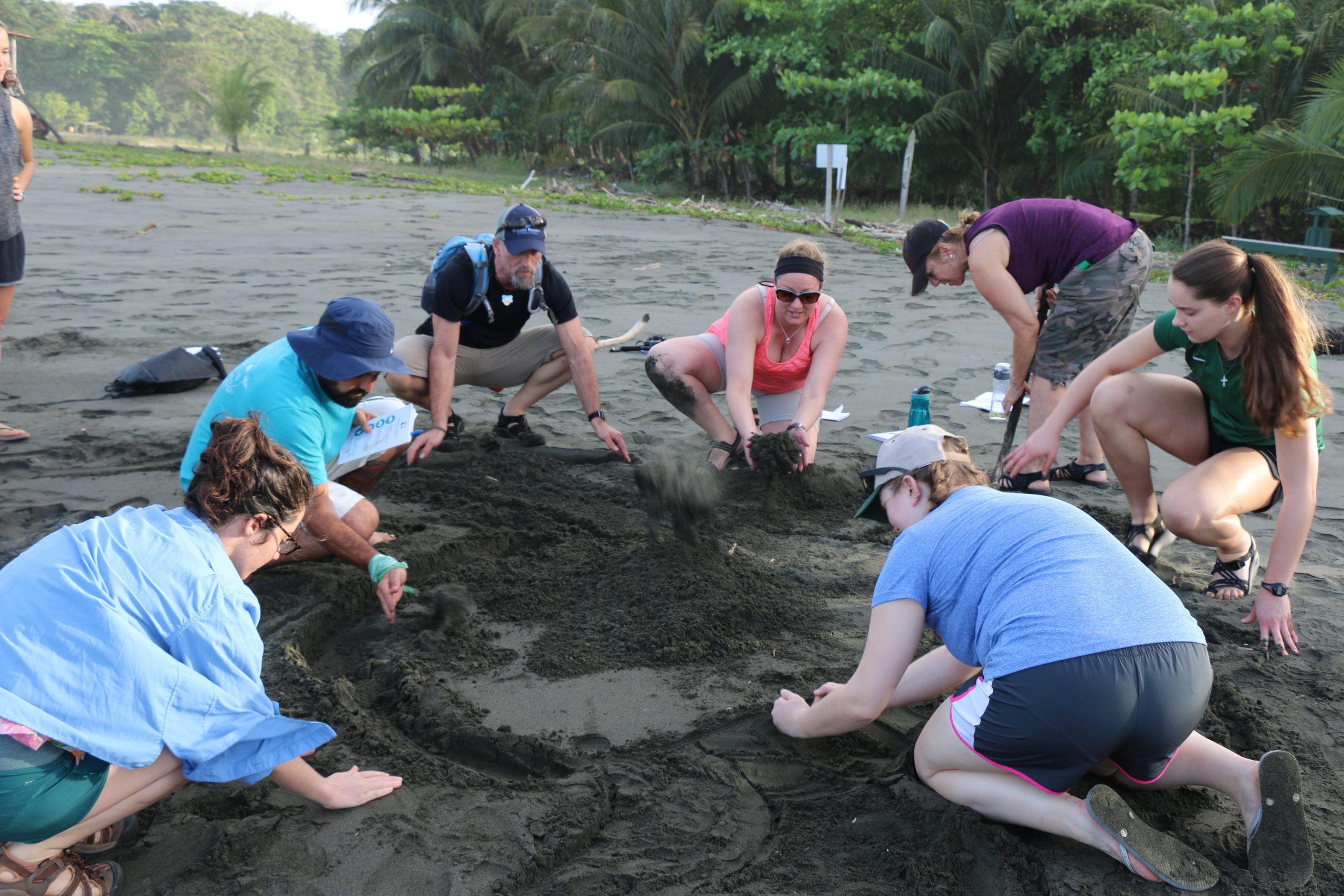 Payment Information
To ensure that our education programs do not take away from the needs of our animals, we ask for a contributory payment for all programs:
Virtual programs: $120 for a 45 minute session with our Director and Lead Educator. We use Zoom to allow class participation and live questions. 30 participant maximum. We do incorporate live animals in each program.
In-Person programs:  $175.00 for a school classroom or organizational class up to 25 participants at our center. $200 off-site within 25 miles.  Additional back-to-back classes on the same day are only $95.00 per class. Classes of more than 25 students are $6 per additional participant.
Adult speaking engagements $200.00.
Scouts: Same prices as above but please note: Siblings attending Scout programs DO count as participants. 
Fairs:  $100.00 per hour for fairs up to four hours.
For programs held outside a 25 mile radius, we ask for an additional .75 per mile. In extreme situations, we will negotiate alternative means of payment.
For additional information, or to schedule a program, please call 502-888-5470 or e-mail at brigette@secondchanceswildlife.org.
Our Patrons
Our Lady of Peace
Jefferson Memorial Forest
Creasey Mahan Nature Preserve
Jefferson County Free Public Libraries
Bullitt County Libraries
Oldham County Libraries
Oldham County Parks and Recreation
Shelby County Parks and Recreation
Clarksville IN Parks and Recreation
National Fish Hatchery
Parklands of Floyd Fork
EP Tom Sawyer State Park
Blackacre Nature Conservancy
Boy Scouts of America
Girl Scouts of America
Various Schools named upon request